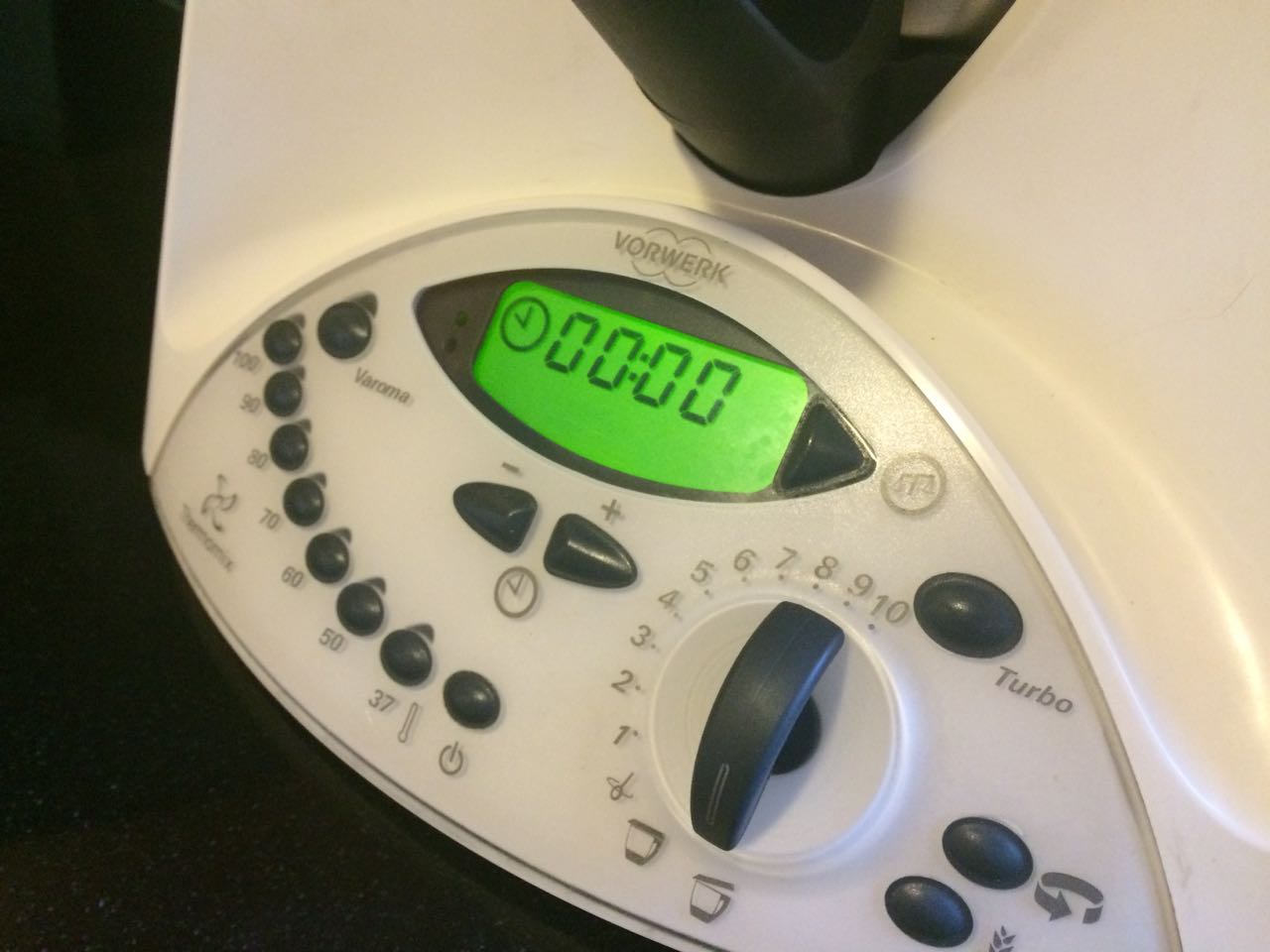 You've heard of it, you've got friends who've got it, you've been invited to attend a demo at someone's home but have declined because you're terrified you'd be amazed by it and won't be able to stop yourself from buying one (and that it's some weird network marketing cult). Now you can make incredible hot wet rice with minimal fuss. It chops, blends, pulverises, stirs, kneads and even cooks for you. It even has a built-in digital measuring scale, so it replaces at least 3 separate appliances from your kitchen bench top.
This Thermomix is well loved for 3.5 years, and retailed for $1930. This model is now discontinued and the new TM5 model launched a year ago is over $2000 and has some improvements but basic functionality is largely the same.
Comes with the main stainless steel bowl, the 'Varoma' steaming bowl/tray, a simmering/rice basket, the 'butterfly' attachment, silicon mat, a specially designed spatula, and the Thermomix 'Everyday Meals' recipe book .
Panasonic 50" Plasma Television TH-P50ST60A
Purchased in June 2013 for $1399 after much research for the best TV out there, particularly for movies. Being a plasma screen, blacks are truly black, and colours are bright and vivid. If you like watching sports, plasmas are the only way to go, with fast refresh rates. I've carefully configured and calibrated for optimum colour output and avoiding burn-in. Panasonic plasma televisions have won awards and been critically acclaimed for being the best, after the legendary Pioneer Kuro screens. This is one of the last generations of plasma televisions Panasonic made, before the stopped all R&D on plasmas to focus on OLED.
This was released at the height of the 'Smart TV' and '3D TV' fads and has both features, which are mostly pointless. Comes with 2 pairs of 3D glasses and a remote control. For transport, it will be re-packed into the original box and foam packaging.
3 HDMI inputs (incl 1 ARC compatible)
1 Optical digital output
2 USB ports (for media on thumb drives)
1 SD card reader slot
1 Ethernet port
Wifi
Price: $850 ONO
SVS 5.1 bookshelf, centre speakers and subwoofer
This is a full set of SVS 5.1 surround speakers, which includes 2 pairs of SBS-01 bookshelf speakers for the front stereo and rear surround channels, a SCS-01 centre speaker, and a PB10-NSD subwoofer.
These speakers sound AMAZING for their size, with your eyes closed you'd think you'd be listening to a set that's twice as large! These speakers are magnetically shielded so they won't affect nearby sensitive electronics (e.g. your TV or computer). Unfortunately one of the bookshelf speakers had an accident and was knocked off its speaker stand, causing some superficial dents and scratches to the enclosure, and the woofer driver was damaged - BUT the woofer has been replaced with a genuine spare part directly from SVS in the USA, so it's now good as new.
These speakers were purchased in Jan 2010, and are now discontinued, but they received very good reviews. This is a brand that specialises in subwoofers that produce deep, strong (but not headache-inducing) bass. These speakers have a wide dynamic range and when paired with a good amp like either the Marantz or Pioneer AV receivers (see below), they make your music and movies sound (and feel) incredible. Take a look at the following links:
http://hometheater.about.com/od/loudspeakerreviews/gr/SVSSBS01s.htm

http://www.hometheatersound.com/equipment/svs_sbs01.htm

http://www.goodsound.com/equipment/svs_sbs01_pb10nsd.htm

http://www.hometheaterhifi.com/volume_12_4/svs-sbs-01-speaker-system-11-2005-part-1.html
These speakers have NOT been thrashed by the amplifier. Owned and only used by me at moderate listening levels for music and movies at home, no teenagers in this household!
Comes with high quality subwoofer cable, and 2 pairs of black, wooden speaker stands.
* cow soft-toy in photos not included
Price: $500
Bundle with Pioneer AV Receiver: $550
Bundle with Marantz AV Receiver: $600
Infinity Beta HCS 5.1 bookshelf, centre speakers and subwoofer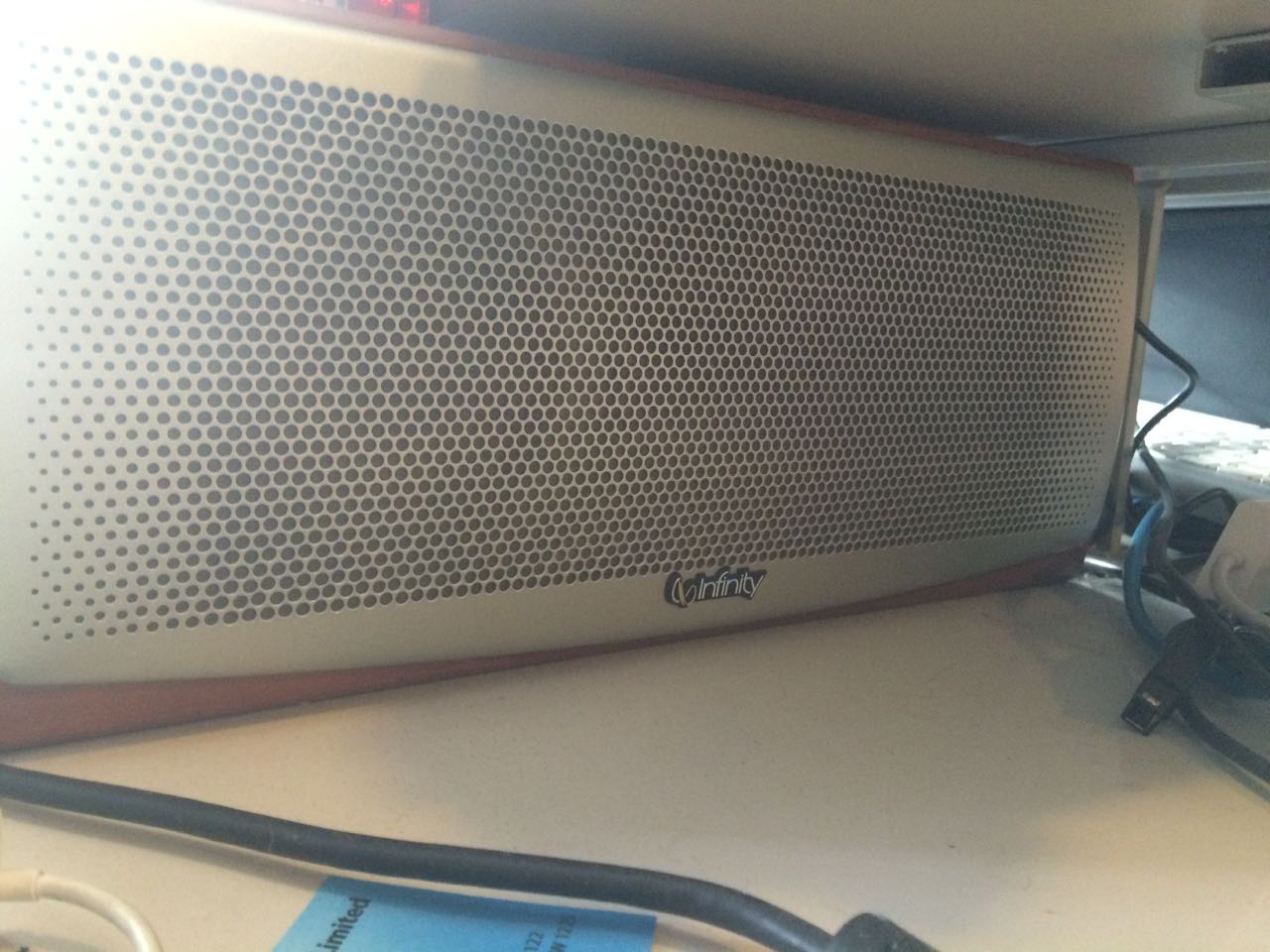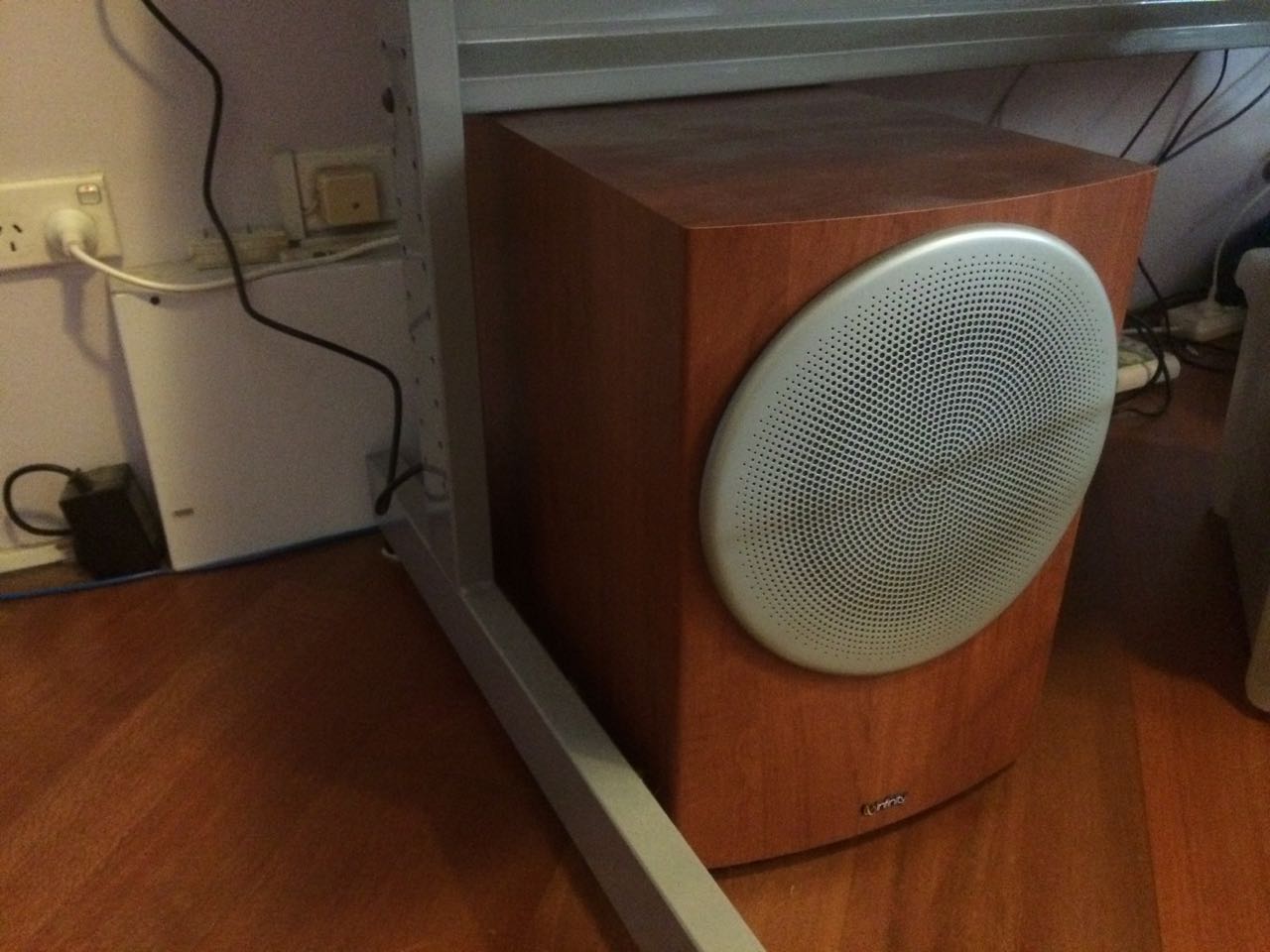 The Infinity Beta HCS is a complete home theatre speaker system with every speaker carefully tuned to complement each other. The compact size of these speakers mean they will fit pretty much anywhere. The dynamic range and frequency response make them ideal for both movies and music, especially when driven by a good amp like the Pioneer or Marantz AV receivers (see below).
Reviews:
http://www.productreview.com.au/p/infinity-beta-hcs.html
Comes with high-quality speaker cable and subwoofer cable, and a pair of silver-coloured metal speaker stands (height-adjustable).
Price: $600
Bundle with Pioneer AV Receiver: $650
Bundle with Marantz AV Receiver: $700
Marantz SR4600 7.1 AV Receiver with Dolby Digital & DTS
Comes with remote
Supports Dolby Digital EX and DTS ES
7-channel surround at 80W per channel
2 optical, 2 coax digital inputs
Full specs: http://us.marantz.com/DocumentMaster/US/SR4600specsheet0506.pdf
Price: $150 ONO (or $100 with speakers)
Pioneer VSX-D810S 6.1 AV Receiver
About 10 years old, and Intermittently turns itself off. Needs a service (probably just dried-up capacitors), otherwise works fine.
Comes with remote and FM/AM antenna
Supports Dolby Digital 5.1 and DTS ES
6-channel surround at 100W per channel
3 optical, 1 coax digital inputs
Full specs: http://www.pioneerelectronics.com/PUSA/Home/AV-Receivers/Pioneer+Receivers/VSX-D810S
Reviews: http://www.audioreview.com/cat/amplification/a-v-receivers/pioneer/vsx-d810s/prd_125684_2718crx.aspx
Price: $75 ONO (or $50 with speakers)
Tannoy Mercury M1 Shadow bookshelf speakers
Reviews: http://www.audioreview.com/cat/speakers/floorstanding-speakers/tannoy/mercury-m1/prd_120668_1594crx.aspx
Price: $100
Belkin WeMo Switch x2 and Motion Sensor
Hugely popular Wi-fi-connected switches let you control pretty much anything that's plugged into them. Connect your old 'dumb' lamps to turn them on or off using your smartphone, or put them on a schedule. You can even schedule it to turn the lights on at sunset, or put them into 'Away' mode where it randomly turns them on and off to make it look like people are moving around the house when nobody's at home.
Integrates with IFTTT for even more possibilities, especially when combined with the motion sensor. Trigger the lights to come on and start recording on your security camera, or have calendar alerts flash your lights (not sure why anybody would want to do that, but you can if you wanted to!) Just don't plug your Wi-fi router plug pack into one of these, because once they lose wireless connectivity, you can't turn it back on remotely.
Price: $125
Mac mini Desktop PC (March 2009)
I love Mac minis, so compact and versatile, and still a full-functioning Mac, just without the monitor, keyboard & mouse, but also very energy-efficient. Which makes them EXCELLENT media centre hubs - they can store media on their internal HDD, access it across your home LAN from another Mac/PC or NAS, and of course stream video from all the new online streaming TV services!
The optical-digital output 3.5mm connector can be connected via an optical TOSLINK cable to your surround-sound system, for playing full 5.1/7.1 surround-sound media!
Even better, this Mac mini has the optical CD/DVD drive, unlike the newer range, so you can play or rip CDs & DVDs!
This Mac mini has been wiped, and then the latest Mac OS X 10.10 Yosemite installed, ready for its next owner to configure. It has:
- Intel Core 2 Duo 2.00GHz CPU
- 4GB DDR31066MHz SDRAM
- nVidia GeForce 9400M graphics
- DUAL video outputs! (MiniDVI & MiniDisplayPort)
- 3.5mm Analog/Optical-Digital Output (can do either)
- 3.5mm Analog/Optical-Digital Input (can do either)
- 802.11 a/b/g/n Wifi networking
- Bluetooth 2.1+EDR (e.g. wireless keyboards & mice)
- 10/100/1000 Gigiabit wired-Ethernet networking
- Firewire 800
- 5xUSB2
- external power-supply brick
Also comes with:
- MiniDVI-to-VGA adapter (good for connecting to an old LCD monitor or TV (video-only))
- MiniDVI-to-DVI adapter (good for connecting to most LCD monitors & some TVs (video-only))
- DVI-to-HDMI adapter (coupled with the MiniDVI-to-DVI makes the connection to any TV with modern HDMI inputs easy (video-only))
This Mac Mini is in full working order & excellent physical condition.
Canon PIXMA iP4300 inkjet printer
This is a 5 cartridge, photo quality ink system - Cyan, Magenta, Yellow, Black and Photo Black. Print on compatible rewritable CDs/DVDs/BDs using the included CD printing adapter/caddy. 2 paper feed options - tray and straight-through manual feed for thicker paper/card stock or different paper sizes.
The 2 black cartridges still have a good amount of ink in them, but the colour ones have run out and need replacement.
Price: free (needs new CMY colour ink cartridges)
Brother HL-2040 Laser Printer
Black and white laser printer, toner has run completely out, can be bought for about $60-$80, and lasts forever with occasional home use (I think I bought this toner cartridge in 2010). YMMV of course.
Price: free (needs a new toner cartridge)
3-axis adjustable - swivel left/right, tilt up/down, forward/back, just can't adjust height
Standard VESA monitor mount fits most LCD monitors up to 24-26"
Sturdy! Attaches to desk using a C-clamp
Price: $20
3-seater couch (2 piece) with chaise extension
Light brown velour-like fabric. No stains or marks. Previously treated with Scotchgard but probably due for re-application.
Comes with 3 small cushions (pictured)
Dimensions: 215 cm x 105cm (W x D) , Chaise length - 185cm
Price: $100
Dimensions: 120cm x 60cm x35cm (L x W x H)
Price: $25
Lampshade is getting a bit tatty and one of the wires on the frame has broken so it's a bit wonky, Just needs a replacement lampshade.
Price: free (needs new lampshade)
Metal frame with wooden slats. Less than a year old, purchased from Freedom Furniture
Price: $50
Two of them, pretty standard stuff. No stains or burn marks, non-stick surface still intact. We didn't really need both of them and you probably won't either so you can just pick one.
Price: $20 each
Upright mirror with silver frame
Sunbeam Café Series EM6910 Espresso Machine
This espresso machine has served me well and makes a mean espresso. The excellent combo of this machine with the EM0480 grinder is well known (go on, Google it). Dual Thermoblock heating elements allow simultaneous brewing and usage of the steam wand. Well maintained and cleaned regularly and have just done a full, deep clean including descaling, and replaced the silicone gasket. Comes with the red 'knock box' shown in the photos, a spare water filter and a few extra descaling tablets.
Price: $200 SOLD
EM6910 espresso machine and EM0480 grinder bundle: $250 SOLD
Sunbeam EM0480 Conical Burr Grinder
The perfect companion to the EM6910 espresso machine (go on, Google it). This workhorse has an adjustable grind fineness setting to suit your coffee beans and comes with the funnel and plastic container which minimises the mess.
Price: $75 SOLD
EM6910 espresso machine and EM0480 grinder bundle: $250 SOLD